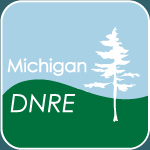 The Michigan Geological Survey at Western Michigan University facilitates basic and applied geological research to promote the best use of Michigan's geological resources for their social and economic benefits while protecting associated resource values and the environment.


https://wmich.edu/geologysurvey

Location
1184 Rood Hall, Mail Stop 5731
1903 W Michigan Ave
Kalamazoo , MI 49008-5241

BayCounty, 21-017-36552-00-00MGRRE Core Inventory
MecostaCounty, 21-107-42264-00-00MGRRE Core Inventory
Gogebic County; API 21-053-00877-73-00; COMMENTS Rej. material from soil samples. Stored in pail PL-24.
Marquette County; API 21-103-01932-73-00; COMMENTS Water well log available.
ALLEGAN County; API 21-005-20398-00-00; MGRRE Core Analysis
View more...
ScienceBase brings together the best information it can find about USGS researchers and offices to show connections to publications, projects, and data. We are still working to improve this process and information is by no means complete. If you don't see everything you know is associated with you, a colleague, or your office, please be patient while we work to connect the dots. Feel free to contact
sciencebase@usgs.gov
.