Filters
Date Range
Contacts
Categories
Tag Types
Tag Schemes
Freshwater mussels (Unionidae) are among the most imperiled groups of organisms in the world. Unionids are plagued with a lack of basic information regarding species distributions, life history characteristics, and ecological and biological requirements. We assessed the influence of hydrologic factors on the occurrence of the Suwannee Moccasinshell, Medionidus walkeri, a federally threatened freshwater mussel species endemic to the Suwannee River basin in Georgia and Florida. We also assessed the influence of survey effort on detection of M. walkeri during field surveys. All current (2013-2016) mussel survey records in the Suwannee River Basin were compiled, and cumulative discharge contributed by upstream springs...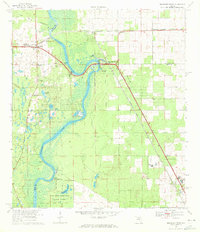 USGS Historical Quadrangle in GeoPDF.
This is an ArcGIS shapefile which depicts the seasonal salinity dynamics of 32 Gulf of Mexico estuaries. To characterize the dynamic nature of estuarine salinity gradients, a multivariate methodology (Bulger et al. 1993) was applied to derive five bio-salinity zones in four salinity seasons for 32 Gulf of Mexico estuaries (Christensen et al. 1997). This seasonal salinity zone spatial framework built upon and refined earlier studies which characterized salinity on an annual-averaged basis (NOAA 1985, Orlando et al. 1993, NOAA 2007). Precipitation, flow gage data, and monthly salinity averages were evaluated to determine which months would be used to represent the high, low, and transitional (increasing and decreasing)...