Filters
Date Range
Types
Contacts
Tag Types
Tag Schemes
This data set depicts soil characteristics in western North America. The data set was created from NRCS STATSGO soil data. Calculations were made to reduce one to many relationships to one to one relationships in order to summarize average water capacity, depth to rock, salinity, and pH for each map unit (MUID). ArcMap 8.3 was used to import dbf files and merge newly created attribute fields to the GIS soil coverage. This product and all source data are available online from SAGEMAP: .
This tabular data set represents the STATSGO Soil Layer Attributes compiled for two spatial components of the NHDPlus version 2 data suite (NHDPlusv2) for the conterminous United States; 1) individual reach catchments and 2) reach catchments accumulated upstream through the river network. The source data is found in the LAYER table from the "STATSGO soil characteristics for the conterminous United States" produced by the United States Geological Survey (Wolock, 1997). The variables included are water-table depth, soil erodibility (k-fact), soil erodibility for the uppermost soil horizon (k-factup), permeability, average water capacity, bulk density, percent organic material, rainfall and runoff factor ("R factor"...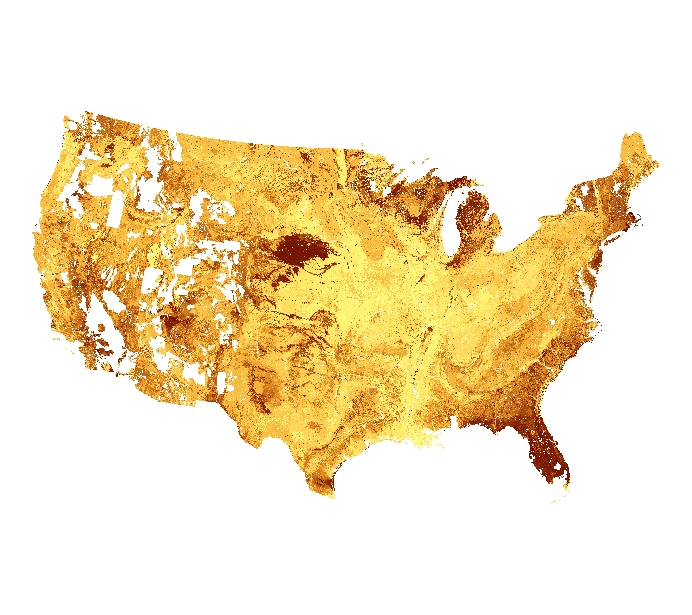 This digital data release consists of seven national data files of area- and depth-weighted averages of select soil attributes for every available county in the conterminous United States and the District of Columbia as of March 2014. The files are derived from Natural Resources Conservations Service's (NRCS) Soil Survey Geographic database (SSURGO). The data files can be linked to the raster datasets of soil mapping unit identifiers (MUKEY) available through the NRCS's Gridded Soil Survey Geographic (gSSURGO) database (http://www.nrcs.usda.gov/wps/portal/nrcs/detail/soils/survey/geo/?cid=nrcs142p2_053628). The associated files, named DRAINAGECLASS, HYDRATING, HYDGRP, HYDRICCONDITION, LAYER, TEXT, and WTDEP are...